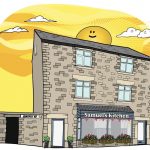 Length – 4.5 miles
Description
A walk from Stocksbridge town centre up Hunshelf Bank to the disused Isle of Skye Quarry which is being developed into a nature area. The route then crosses fields and passes through mature woods as it drops down to the River Don and the Tin Mill ponds. The route returns to Stocksbridge Town Hall by Ellen Cliff and the Ford Lane path via Fox Valley.
Information
Grade – Well marked paths, stone stiles, some rough ground, can be muddy in wet weather.
Start – Stocksbridge Town Hall, Manchester Road, Stocksbridge
Grid Reference – SK 273984
Parking – Lidl Car Park, public section at at the end furthest from the car park entrance.
Public transport – 57 and SL
Refreshments – Various cafes and shops in the town centre.
Public Toilets – Coin operated unit opposite the Town Hall.
---
---
---
Map of the walk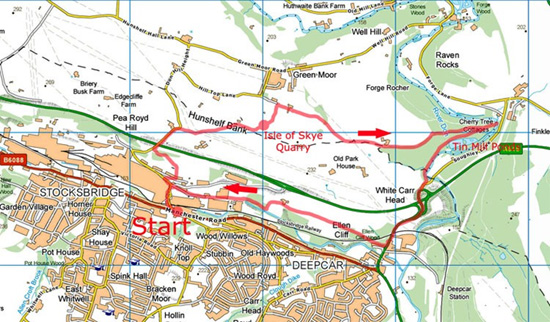 ---
This document was produced by and is copyright to the Stocksbridge Walkers are Welcome group. Walkers are Welcome UK is a nationwide network which aims to encourage towns and villages to be 'welcoming to walkers'.
Material on the website is provided for information purposes only. Whilst every care is taken in compiling the information on the website we do not make any warranties or representations as to its accuracy or reliability. We may make changes to the material on the website at any time without notice. Certain information on the website may contain typographical or other errors or be out of date, and we make no commitment to update such information. We and any third parties referred to on the website assume no responsibility for how you use the information provided through the website.
Except where expressly stated to the contrary, copyright in the text, graphics and information contained in this web site (including downloads) is owned by Stocksbridge Walkers are Welcome. You may print, or download to a personal computer, extracts for personal use.
Permanent copying and/or storage of whole or part of this web site or the information contained therein or reproduction or incorporation of any part of it in any other work or publication whether paper or electronic media or any other form is expressly prohibited unless agreed otherwise.
---
Copyright Stocksbridge Walkers are Welcome 2021